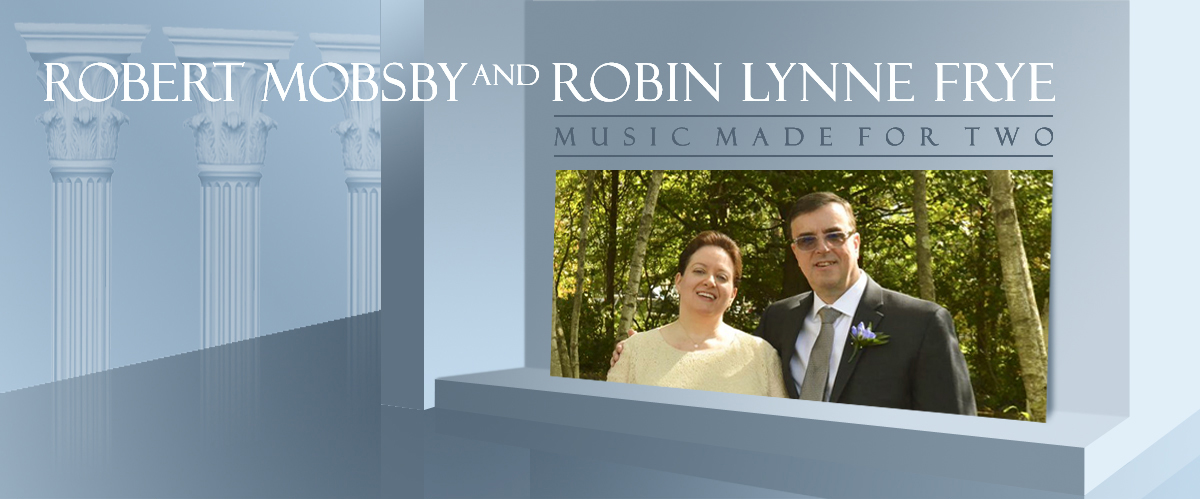 NEXT DUO-RECITAL – SAVE THE DATE!!!
Saturday, February 29, 2020 at 7:00 PM
First Presbyterian Church
1 West Putnam Avenue
Greenwich, Connecticut

Admission complimentary
Reception to follow
Selections from:
Peter Cornelius – Duets
Fernando Obradors – Canciones Clásicas Españolas – Songs
Amilcare Ponchielli – La Gioconda – Arias and Duet
Gabriel Fauré – Duets
Roger Quilter – To Julia – Songs
Jerome Kern – Show Boat – Duets

Grand opera, beloved songs, musical theater – they sing it all!
Robin Lynne Frye and Robert Mobsby have performed together since they met at a singing job in the 90s.  This husband and wife singing duo always touches audiences as they share their love of music together on stage.  With selections ranging from Mozart, Brahms, Mendelssohn, Handel and Schumann to Bernstein, Rodgers and Hammerstein, Berlin and Gershwin, their concerts include something for everyone.
At a Music Made for Two concert, you can be sure of:
– High-quality, thoughtfully programmed repertoire that can be tailored to the event
– A mix of songs and opera, solos and duets
– A variety of languages, periods and styles
– A personal connection with the audience by way of lively, spoken program notes
– Beautifully designed printed programs that include texts, translations and artist biographies
– Utter professionalism – with flair!
– A delightful, memorable event – both elegant and fun!
Sample programs Ms. Frye and Mr. Mobsby have performed in the past are below.  Please contact them at robinlynnefrye@gmail.com for more information on booking your Music Made for Two concert.  They look forward to singing for you!
About Robin Lynne Frye:
Mezzo-soprano Robin Lynne Frye has received widespread critical acclaim for being "vocally and musically…a most impressive singer" in oratorio, chamber music, recital and opera. She has won or placed in several competitions, has performed in many premieres, has had a number of works composed for her voice and may be heard on numerous recordings.New York area solo appearances have included performances with the New York Philharmonic, the Connecticut Early Music Festival, Sacred Music in a Sacred Space at St. Ignatius Loyola, and the New York Virtuoso Singers. In North Carolina, Ms. Frye served on the music faculties of the University of North Carolina at Pembroke, Methodist University and St. Andrews University, was soloist with the North Carolina Master Chorale and the Choral Society of Durham, was Director of Children's Music at Brownson Memorial Presbyterian Church, and was Executive/Artistic Director of the Moore County Music Society.
Recognized by the New York Singing Teachers' Association as a Distinguished Voice Professional, Ms. Frye has served as a choral clinician and as competition adjudicator for the National Association of Teachers of Singing, the Music Teachers' National Association and the American Choral Directors' Association. Ms. Frye is a member of the National Association of Teachers of Singing, the New York Singing Teachers' Association and the American Guild of Musical Artists. Ms. Frye is a frequent duo-recitalist performing with baritone Robert Mobsby as "Music Made for Two," most recently at The Church of St. Mary the Virgin in New York.
In addition to a busy performing schedule, she maintains an active voice and piano teaching studio in New Rochelle, New York. Her students have found success as professional singers, in competitions and in leading roles in concert, opera, and musical theater.www.robinlynnefrye.com
Program 1
Che vai pensando, folle pensier,HWV 184  ​by G. F. Handel (1685-1759)
Giù nei Tartarei regni, HWV 187, by G. F. Handel (1685-1759)
Réveil, Op. 11 No. 2,HWV 184, by Ernest Chausson (1855-1899)
Colloque, by Francis Poulenc (1899-1963)
Les Fiancés, Op. 68, by Cécile Chaminade (1857-1944)
Vier Duette, Op. 28, by Johannes Brahms (1833-1897)
Die Nonne und der Ritter
Vor der Tür
Es rauschet das Wasser
Der Jäger und sein Liebchen
INTERMISSION
Pur ti miro (L'Incoronazione di Poppea), by Claudio Monteverdi (1567-1643)
Là ci darem la mano (Don Giovanni), by W. A. Mozart (1758-1791)
Ai capricci della sorte (L'Italiana in Algeri), by Gioacchino Rossini (1792-1868)
Four Cautionary Tales and a Moral, by Liza Lehmann (1862-1918)
Rebecca  (Who slammed doors for fun and perished miserably.)
Jim  (Who ran away from his Nurse, and was eaten by a Lion.)
Matilda  (Who told lies, and was burned to death.)
Henry King  (Who chewed little bits of string and was early cut off in dreadful agonies.)
Charles Augustus Fortescue  (Who always did what was right, and so accumulated an immense fortune.)
ENCORE
El Desdichado, by Charles Camille Saint-Saëns (1835-1921)
---
Program 2
The Passing Bell, by Roger Quilter (1877-1953)
Weep You No More, by Roger Quilter
It Was a Lover and His Lass, by Roger Quilter
Performed by Ms. Frye and Mr. Mobsby
O del mio amato ben by Stefano Donaudy (1879-1925)
Spirate pur, spirate by Stefano Donaudy
L'ultima canzone by Francesco Paolo Tosti (1846-1916)
Performed by Ms. Frye
Selections from Mignon, by Ambroise Thomas (1811-1896)
De son coeur j'ai calmé la fièvre
      Performed by Mr. Mobsby
Connais-tu le pays
      Performed by Ms. Frye
Légères hirondelles
      Performed by Ms. Frye and Mr. Mobsby
INTERMISSION
Selections from Trouble in Tahiti, by Leonard Bernstein (1918-1990)
There's a Law
      Performed by Mr. Mobsby
What a Movie!
      Performed by Ms. Frye
Well, of All People
      Performed by Ms. Frye and Mr. Mobsby
Mein Sehnen, mein Wähnen (Die tote Stadt), by Erich Wolfgang Korngold (1897-1957)
Schweig', damit dich Niemand warnt (Der Freischütz), by Carl Maria von Weber (1786-1826)
Performed by Mr. Mobsby
You're Just in Love (Call Me Madam), by Irving Berlin (1888-1989)
An Old Fashioned Wedding (Annie Get Your Gun), by Irving Berlin (1888-1989)
Performed by Ms. Frye and Mr. Mobsby
---
Program 3
Gruss, Op. 63, No. 3, by Felix Mendelssohn (1809-1847)
Herbstlied, Op. 63, No. 4, by Felix Mendelssohn
Ich wollt', meine Lieb' ergösse sich, Op. 63, No. 1, by Felix Mendelssohn
Performed by Ms. Frye and Mr. Mobsby
Selections from Haugtussa, Op. 67, by Edvard Grieg (1843-1907)
Det Syng
Veslemöy
Møte
Elsk
Killingdans
       Performed by Ms. Frye
Thousands of Miles (Lost in the Stars), by Kurt Weill (1900-1950)
Performed by Mr. Mobsby
What Good Would the Moon Be (Street Scene), by Kurt Weill
Performed by Ms. Frye
We'll Go Away Together (Street Scene), by Kurt Weill
Performed by Ms. Frye and Mr. Mobsby
INTERMISSION
Selections from Carmen, by Georges Bizet (1838-1875)
Si tu m'aimes, Carmen
      Performed by Ms. Frye and Mr. Mobsby
Les tringles des sistres tintaient
      Performed by Ms. Frye
Votre toast, je peux vous le rendre
     Performed by Mr. Mobsby
Selections from Songs of Travel, by Ralph Vaughan Williams (1872-1958)
The Vagabond
Let Beauty Awake
Whither Must I Wander?
Bright is the Ring of Words
Performed by Mr. Mobsby
I Don't Think I'll Fall in Love Today (Treasure Girl), by George Gershwin (1898-1937)
The Half of It, Dearie, Blues (Lady, Be Good!), by George Gershwin
Let's Call the Whole Thing Off (Shall We Dance), by George Gershwin
Performed by Ms. Frye and Mr. Mobsby
---
Program 4
​Er und Sie (Op. 78, No. 2), by Robert Schumann (1810 – 1856)
Ich bin dein Baum (Op. 101, No. 3), by Robert Schumann
Tanzlied (Op. 78, No. 1), by Robert Schumann
Performed by Ms. Frye and Mr. Mobsby
Let Us Garlands Bring, by Gerald Finzi (1901 – 1956)
Come Away, Come Away, Death
Who is Silvia?
O Mistress Mine
Fear No More the Heat o' the Sun
It was a Lover and His Lass
      Performed by Mr. Mobsby
Cinco Canciones Negras, by Xavier Montsalvatge (1912 – 2002)
Cuba dentro de un piano
Punto de Habanera
Chévere
Canción de cuna para dormir a un negrito
Canto negro
      Performed by Ms. Frye
INTERMISSION
Satires of Circumstance, by Betty Roe (1930 – )
Outside the Window
By Her Aunt's Grave
In the Moonlight
In the Restaurant
At a Watering Place
      Performed by Ms. Frye and Mr. Mobsby
Selections from Carousel, by Richard Rodgers (1902 – 1979)
Soliloquy
      Performed by Mr. Mobsby
June is Bustin' Out All Over
      Performed by Ms. Frye
​If I Loved You
      Performed by Ms. Frye and Mr. Mobsby
ENCORE
Without a Song (Great Day), by Vincent Youmans (1898-1946)